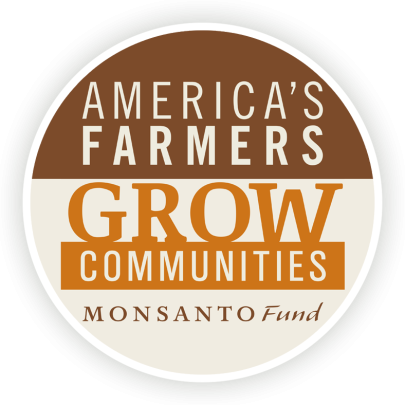 Making a Difference
America's Farmers Grow Communities 2019 Award
Capital Democrat Article - September 26,2019
When local farmer Deb Rensink signed up for America's Farmers Grow Communities, she didn't know she thought she was signing up for a group that reflected her values. That made it all the more stunning when she received a call this winter telling her she had won a $2,500 donation to the nonprofit of her choice.
Sponsored by the Bayer Fund, the program provides farmers the opportunity to support and give back to nonprofit organizations they care about in their local communities. When Rensink heard she had won the money, she immediately asked if it could be directed to the non-profit she is affiliated with, Whispers of Love, Hope and Joy. The Bayer Foundation was happy to comply, and the group was awarded the money this summer. The money has been earmarked for winterizing vehicles of survivors of Intimate Partner Violence, ensuring their safety on the winter roadways.
"A few years ago, I was approached by Brian Rozeboom, who is in an area Men's Bible Study, about doing maintenance on vehicles for women who need help," explained Rensink. "The timing was wrong. But last year I was struggling with how to help the abused women I work with, and remembered their offer. I reached out to them, and they agreed to help with the project."
Last year was the first time Whispers of LHJ, Atlas and the men's Bible study group put on the event. Twenty-two vehicles were serviced at Rensink's farm, while the women were given a tutorial by Bob Bruxvoort on how to take care of their vehicles. Vice President Ashley Schuiteman was on hand for the event. "We wanted the women to feel empowered when they left us, and know that they would be safe in their vehicles," she said. "It was very humbling to see some of the cars. We realized how blessed we are to have men in our lives who aren't abusive and make sure our vehicles are in good shape."
Rensink is thankful to the men who helped. "The men's Bible study has a passion for serving, and they provided us with the mechanical expertise to put on the event. We had three stations going, and there would be 3-4 men working on each vehicle. They were very thorough. I even remember watching Brad Vermeer wash every single window of every vehicle with such care! It was a wonderful experience."
During the event, one of the vehicles was discovered to have some pretty serious axle issues. "The men wouldn't let her leave until it was fixed," smiled Rensink. "They went to other shops and got parts and advice and fixed it so that it was safe to drive."
October 12 is the day designated for the event this year. The group is looking forward to servicing twenty-four vehicles. Thanks to donations of oil from Co-op Gas and Oil, and oil filters donated by Arnold Motor Supply, the money from the grant will be used to provide winter survival kits to the survivors of abuse. "It's great to see the way survivors have connected and how people are engaging with each other through this event and others," Rensink said. "We can't do life in isolation. When women leave a bad situation, they often lose their support network and need to find a new community. Even though what they go through is so horrific, they need to know God knows their heart, and all of the pain will pass. With God's help, we can help them build a better life."
Since 2010 the America's Farmers Grow Communities program has given more than $3 million to over 8,000 nonprofit groups across rural America. Their goal is a better life. The company realizes that farmers are invested in their communities and know when and where the needs are. The program allows farmers to direct donations to the organizations they are passionate about and make a positive impact in their communities. To learn more about the America's Farmers Grow Communities program, visit www.America'sFarmers.com.